Presbyterian Women
2018-2019 Moderator: Sandra DuBois, Email Sandra
Presbyterian Women (PW) is a church-wide organization whose membership is open to all women. Presbyterian Women members are those who choose to participate in or be supportive of Presbyterian Women in any way. PW intentionally seeks the membership of women from all racial and ethnic groups so that the organization may reflect a vision of the whole church as a community of mutual interdependence in which diversity contributes to wholeness.
What's the purpose of Presbyterian Women?
Forgiven and freed by God in Jesus Christ and empowered by the Holy Spirit, we commit ourselves:
To nurture our faith through prayer and Bible study
To support the mission of the church worldwide
To work for justice and peace, and
To build an inclusive, caring community of women that strengthens the Presbyterian Church (USA) and witnesses to the promise of God's kingdom.
Presbyterian Women Circles
Circles are small groups that gather regularly to provide an inclusive, caring community of women. Each circle is an integral part of PW and is encouraged to use PW resources to strengthen this connection.
A circle is where
Faith is nurtured and growth takes place through worship, study, fellowship, and outreach
Women are challenged to stretch beyond their limits
Women move beyond the safe places of life, reaching out to others
Christian leadership is born, nurtured, and sent forth into ministry
Circle Meetings are held monthly in the Parlor
Day Circle . . . 2nd Monday @ 9:30 am (childcare is provided)
Night Circle . . . 2nd Monday @ 7:30 pm
Day Circle . . . 2nd Tuesday at 9:30 am
2018-2019 Bible Study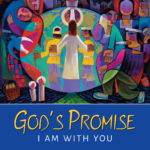 Cloud of Witnesses- God's Promise: I Am With You by Amy Poling Sutherlin
The 2018—2019 PW/Horizons Bible study, God's Promise: I Am with You, takes readers on a journey through scripture to consider circumstances in which God articulated God's promise of presence. This study does not delve deeply into manifestations of God's presence but rather on God's actual articulation of God's promise. We will see anew that God offered these words of profound comfort and commitment to individuals and communities from the time of the patriarchs to that of the prophets; from the judges to the kings; before, during, and after the exile; into the New Testament and beyond, to the end of the age.
2018-2019 Saint Luke's PW Yearbook

2018-2019 Saint Luke's PW Brochure
2018-2019 Saint Luke's Membership Form
2018-2019 Saint Luke's PW Circle Schedule
2018-2019 Saint Luke's PW Coordinating Team Calendar
2018-2019 Saint Luke's PW Check Request Form
2018-2019 Saint Luke's PW Coordinating Team Roster