Sunday Morning
Sunday mornings are filled with joyful noise at Saint Luke's. Here's why:
8:30am Worship Service
Younger children will enjoy playing in our nursery, while older children will enjoy the intimate worship setting, which includes "Tell Us Our Story". Children of all ages will find worship notebooks, lacing crosses and kid-friendly Bibles on the tables just outside our beautiful chapel.
9:30am Sunday School (September through May)
[clear]
[one_fourth]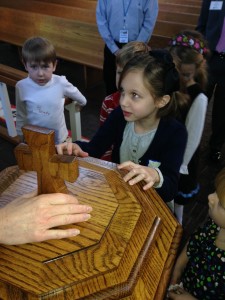 [/one_fourth]
[three_fourth last=last]
Preschool Ages
Our three-year-olds, PreK students and Kindergarten students will be fascinated with Godly Play – an imaginative and hands-on series of Bible lessons. Each story is told with simple manipulative wood figures and fabrics, brilliantly scripted to encourage questions and imaginative conversations. Lessons follow the church year so children gain a sense of "how the church tells time". Bible stories are enriched by coloring sheets, art projects, and music time.
For more information about Godly Play, please consult this link.
[/three_fourth]
[clear]
[one_half]
Elementary Grades
Children in first through third grades gather at 9:30 in "The Dock", upstairs in Sheppard Hall, Room 212. We have fifteen minutes of catching up with each other and a brief time of musical praise before dividing into our class groups.
Our first, second, and third graders remain in the Dock for the video Bible story from "Dig In". After our interactive opening, we break into smaller groups with activities that change weekly; including science, quiet games, and many engaging ways to tell the week's Bible story.
First Grade students go across the hall (after the video) to "The Harbor", which is in Room 213.
Second and Third Grade students move from the viewing area to the classroom area in "The Dock".
Fourth and Fifth Grade students start  "Dig In" in the Great Hall and then move upstairs ( Room 209, The Lighthouse) for deeper Bible discussion and fun activities that change weekly.
For more information on "Dig In", please consult this link.
Parents pick up from the age-level classrooms at 10:15.
[/one_half]
[one_half last=last]

[/one_half]
[clear]
10:30am Worship Service
Child Care continues for younger children. We do encourage children to worship with us in the sanctuary, which is supplied with children's worship bulletins, worship notebooks and tactile activities.  "Tell Us Our Story" is eagerly anticipated each week by children of all ages.
Faithful Friends – During the school year (September through May) we have a worship exploration class that begins after "Tell Us Our Story" for children in Kindergarten, First, and Second Grades. Our Faithful Friends will love the "Whirl" lesson series, which keeps them busy learning about the Bible and about worship. Please note that our Faithful Friends will remain in worship on Communion Sundays which are typically the first Sunday of the month.  For more information about "Whirl", consult this link. 
This class meets upstairs in "The Harbor" (Room 213 of Sheppard Hall), and parents may pick up their Faithful Friends at the conclusion of 10:30 worship.  We depend on adult volunteers, to help lead our Faithful Friends, please visit the Sign Up Genius link- click here.
Child Care – Saint Luke's provides child care for children each Sunday morning from 8:15am until 11:45am. We hire screened, professional caregivers who love serving the families of our church. Nursery classrooms are all located in Sheppard Hall. We ask that parents complete an information/authorization form for each child so that we may be aware of special needs and allergies. Forms are available in sign-in notebooks and at the desk in Sheppard Hall.